Posts Tagged 'Vancouver Professional Organizer'
Do you feel like the time from after school until bed just flies by?
Do you dream of a stress free after school time frame?
Do you ever wonder how your mother did it all?
Gone are the days of walking home from school alone and then staying home alone until your parents got in from work. I guess there are the exclusive cases where this still happens, however in general I think most parents are so concerned with their child's safety that they have them well looked after. Not to mention that there are so many more activities for kids to do these days.
When I was a kid…do you hate that saying as much as most people do?
Sorry, but when I was a kid we were allowed to attend one after school activity per week. I picked ballet and my sister picked baseball. Then one year I recall my sister picking horseback riding. That was exciting as being the youngest I got to tag along on the Saturday morning outing. I was afraid that the horses would kick me so I stayed far away and just watched.
I digress.
Please check out this short video on after school organizing tips to help get you started.
SNACKS: Did you know that between 2-3 pm is one of the universal learning times? Our bodies are at a peak which also means it is a great time for a snack. In order to be ready for this time of day you will want to be prepared and organized.
Some of the easiest snacks to have on hand are: single serving yogurts, fresh cut up fruit or vegetables, a block of cheese that you have cut up into cubes and wrapped in packages of say 4-5 cubes, little packages of crackers, protein bars (be sure to check the ingredients as some of the protein bars on the market are just glorified chocolate bars, this is not an ideal after school snack as the sugar high might get your kids fired up), pre-portioned dried fruit and nuts are one of my favorite afternoon snacks, and air popped popcorn is also a fun alternative.
Do you have any other favorite ready to go snacks for your kids? If so please share in the comment box below.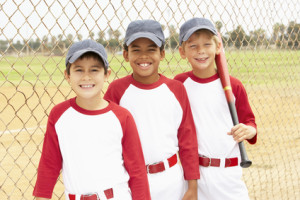 ACTIVITIES: Did you know most kids these days feel overwhelmed by how busy their schedules are? When surveyed they commented on how they wished they had more down time. Keeping that in mind, you will want to try as best as possible to plan after school activities that require the least amount of running around. For example; if you can have all of your children attend the same swimming pool for lessons all at the same time. I know this is not always possible.
What about painting classes or pottery? Volunteering at a senior's home or the local soup kitchen. Activities that do not require as much thinking or the computer are a nice break not only for us but for kids too! This will help save some brain power for the next item on the list…
HOMEWORK: I recall having to do all of my homework before anything else. I liked that idea because the school brain was still "on" before I made room for the "play" brain. Plus I was not tired. Being tired brings on procrastination.
I think we would all agree kids have way more homework these days which requires more time. In order to have your kids organized and happy you will want to make time for homework where they do not feel rushed.
15 minutes to freedom bonus tip: Make lunches and snacks the night before. Get backpacks also ready with all school notices signed.
Have you taken advantage of your FREE session yet? Give me a call and we can discuss your organizing needs. I'll share with you my number one saying in order to get and stay organized.
Do you dread the holiday season and all of the large dinner parties that come with it?
Do you wish you had a magic wand and voila…dinner was on the table?
Have you changed your entertaining style over the years?
Somehow my home has become the place where all of the large dinner parties happen. This could be self induced or it could be because I have the space. Or is it habit? You know people do get use to tradition and routine. That being said, I have had to change up some of the ways in which I entertain.
There are ways to have a stress-free large dinner party. Check out this video and Getting It Together's tips to see how.
Tip #1: Make a guest list.
Know your limit. How many people comfortably can fit around your dining room table? How many people do you feel comfortable cooking for? 6 people may be large for one person whereas 20 may not seem that large to another. I usually have between 12-14 at significant holidays. In general however, I really enjoy intimate dinner parties for 4-6.
Tip #2 Select your date and time.
Tip#3 Contact your guests with a personal invitation. Email or phone, whichever works best for you.
This is a great task to delegate to children if they are old enough.
Tip #4: Make your menu.
I like to write mine out as opposed to keeping it in my head. I keep in mind menu items that are easy and can be made in bulk. For example Caesar salad, mashed potatoes, baked beans, etc.
Tip#5: Write out your shopping list.
I wish I could get everything in one place however that does not work for the type of cooking I do, so I create a list for each of the stores I shop at. Having a list really helps with staying on course and not over shopping.
Tip #6: Make an action plan.
Take all the things you need to do and divide them up over the few days before your large dinner party. 2 days before you can do all of the grocery shopping. As you know from previous blogs I highly suggest cleaning all of your produce as soon as you bring it home and before you put it away. This is a huge time saver.
2 days before you can set your dining room table (another great task to delegate to older children).
One day before you can do all of the prep work, make desserts, etc. For example when I host Thanksgiving dinner I cook all the ingredients for the stuffing one day before putting it all together with the dried bread crumbs. I cut up all the vegetables and get all the big pots and pans out.
On the day of the large dinner party the turkey went in the oven, the stuffing went in the slow cooker, the potatoes went into the big pot and the vegetables went into the steamer.
I even had time for a nice long walk in the beautiful Vancouver sun shine and a relaxing cup of coffee out on a deck!
In the past I have done it all myself. If anyone offered to help I would say "thank you but I have it all covered". Now when someone offers to help I jump on it.
If they would like to bring something I happily agree and give them an item that I feel would be best suited to them. For example, if one of your guests is always late you will want to delegate dessert to them. If they are the type of guest who is always on time then asking them to bring an appetizer works well.
If one of your guests is not particularly fond of cooking then give them the task of bringing fresh bread.
I have come to realize that everyone likes to contribute and that also means when it is time for clean up.
Tip #7: If no one offers to help or bring anything then it is time to delegate.
This past Thanksgiving the step granddaughters were over. They are not accustomed to offering to help yet. This is the perfect opportunity to practice delegation. They love to help and to feel important. This year Harper was so helpful with putting the cut flowers in a vase, cutting up the garlic and smashing the skore bars in preparation for Sundae Sunday. Harper is taking home economics this year and was very excited to help out.
Fess up! How often do you forget a password?
Do you have several different passwords you use for several different sites?
Can you imagine having just ONE password for everything?
Have you ever wished there was one secure place to store all of your passwords?
Well there is.
Check out this short video on How to Organize your Passwords for the latest Getting It Together tips.
Now that you have watched this video it is time to organize and set up all of your passwords.
Here are the four simple steps:
1. You will want to make a list of all the passwords you have and what company they are attached to.
2. Then you will want to double check that the passwords you have still works and that you still really want to be a part of that site or company. You may have set up passwords for site that you needed at one time and have since found that you no longer require that site.
I found that I had passwords set up for things I no longer needed or used. DELETE! There is no need keeping records of things you no longer need or use.
3. Next, you will want to set up your account with http://www.1password.com.
4. Lastly you input all of your passwords into http://www.1password.com
Once all your passwords are inputted you can lock it up.
The best thing about 1password.com is you can access your passwords from anywhere in the world as long as you remember your ONE and only master password.
If you feel you might forget that one master password then you will want to write it down in a secure, safe place. You might even want to write it out backwards so only you know what it means. Look how successful Oprah has been using her name backwards. Her production company is Harpo.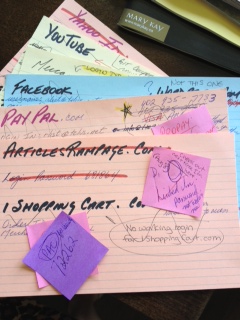 As part of my estate organizing services I am recommending my clients write out their passwords on a piece of paper and keep it in their safety deposit box. This is helpful information that your executor might need.
What did you think of the way I use to keep my passwords?
Looking forward to hearing your comments on storing passwords. Please leave them in the box below.
Have you had your FREE session yet? If not then please pick up the phone and take full advantage of your FREE 20 minute session. We can discuss any password dilemmas you might have and or any other de-cluttering questions.
Call, text or Facetime:  604-520-9550 PST