Posts Tagged 'Vancouver Professional Organizer'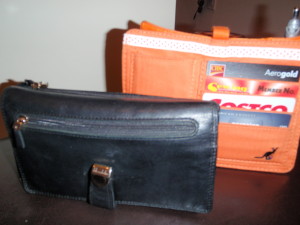 What can you tell about a person's shape, size and condition of their wallet? There are wallets that look like filing cabinets, ones that look like there is nothing in them and then there are some wallets that are held together by an elastic band.
What does your wallet look like?
What does your wallet say about you?
What would happen if your wallet fell on the floor in a coffee shop?
I love what the great money guru Susie Orman says "the thinner the wallet the richer the woman". Susie feels that if your wallet is thin you have a handle on what is inside of it.
Check out this short video on "how to organize a wallet" and watch your money grow.
Here are Getting It Together's Top 5 Tips:
Tip#1 Toss. Go through your wallet and discard anything that doesn't belong. ATM receipts, expired coupons or gift cards, frequent shopper cards for places you no longer shop, old shopping lists, etc. You want your wallet to hold important things like money. You do not want it to look like a filing cabinet. One big wind storm and every piece of paper goes flying. (Did you ever see that on Seinfeld?) If so please leave a comment in the comment box below.
Tip#2 Photocopy. Take your credit cards, drivers license, medical card, etc and copy the fronts of them, then turn them all over exactly in the same spot and copy the backs.  Usually the back of the card displays the phone number to report lost or stolen cards. If your wallet gets stolen or lost you will know exactly what was in there and will have all of the correct phone numbers handy to call and report them as missing.  Keep these copies in your online files and in your safety deposit box.
Tip#3 Organize. Sort your wallet contents by type: Susie would agree with having all your money facing the same direction. Have your bills starting from smallest to largest. Organize identification, credit cards, medical cards, shopping/membership/gift cards, etc.  Use the sections of your wallet to keep these categories separated so you can find your cards quickly. Since writing cheques is not that common, only carry one cheque with you at any given time.
Tip#4 Condense. Do you have kids? Do you carry ALL of their medical cards with you? No need to. Take a blank business card. Write all the medical numbers on the card. Place it in your wallet. If you have 4 kids, that just saved on space and weight. Store the original medical cards in your files.
Tip#5 Clear out. Once a week take a minute or two to clear out all the unwanted papers and receipts from your wallet. Take the excess change and put it in your piggy bank, laundry money or parking meter money. I keep a small change purse in my car for parking. All that change can really weigh your wallet down.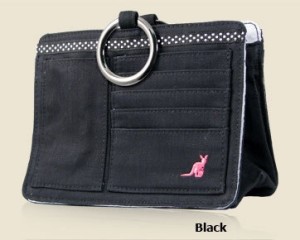 Want to be wallet-less? Put the contents of your wallet in my favorite purse organizer. The Pouchee purse organizer. There is a place for your credit cards, money, lipstick, eye glasses and receipts. It makes changing purses fast and easy. Check it out HERE.
Do you have any other tips for keeping your wallet organized? If so, share below!
How often do you stand in the kitchen and eat your meals?
How often do you miss a meal? "I'm too busy to eat."
How often do you get indigestion?
This is all crazy making. The fact that we are too busy, too rushed or maybe to disorganized to eat properly is crazy. Eating is one of the most important things we can do for our bodies next to proper sleep and shelter. Yes it takes time, planning and preparation in order to be prepared for meal time. These ideas take just a little time and a little organization. Your body is worth it. Isn't it?
Check out this short video on how to slow down and savor your food.
Next time you are getting ready for a meal please try these top Getting it Together's 5 tips.
Tip#1 Stop. For just a moment and really appreciate what is on your plate. Be grateful for what you are about to eat. (Hopefully it is something really healthy and yummy.)
Tip#2 Breathe. Take a moment and really examine your breath. Are you breathing short shallow breaths or are they long deep ones. If they are short, take a minute and do 3-5 really deep breaths. This will help you to slow down and enjoy your meal.
Tip#3 Chew. Chewing slowly encourages proper digestion. Chewing slowly allows you to really savour the flavours of the food you are eating. If you are a dinner guest chewing slowly shows your host or hostess that you are appreciating the tastes and effort it took them to make the meal.
Tip#4 Sit. Even if you are dinning alone sitting at the table is so very important.
You are important so set a place for yourself. No more eating in the car, eating on the run, eating standing up or worse yet eating in front of the TV. The experts say that sitting down to meals increases your chances of losing weight. (If indeed you need/want to lose weight.)
Tip#5 Set the stage. Get yourself a nice placemat, light the candles, turn on some nice music. Turn OFF the TV. And above all please do not answer the phone unless you are expecting an emergency call.
So often I will call a home and the person claims on the other end of the phone that they are right in the middle of dinner. I have never understood why people answer their phones when they cannot talk. (That is a whole different article). I was in a home the other day and they have a big sign on the fridge: "No phones one hour prior to dinner or during." What I love about this message is that it was written by the young daughter. Do you think she might have been frustrated by the lack of communication at her family dinner table?
Whether you are dinning with yourself or your whole family these tips are a great way to slow down, connect, savour and enjoy your food and meals.
Give these TIPS a try and let me know some of your most favourite dinning experiences.
Organizing family photos does not have to be an arduous task as long as you ask yourself these key questions.
What is your ultimate goal with organizing family photos?
Who would like to inherit all your family photos?
Would you like a family photo album for each family member or just one communal album?
Have you asked your family members if they would like a family photo album or is this something that you think they would like?
Do you make a hard copy or do you put each family member's photos on a disk?
Do you organize your album by event or chronological?
Please ask yourself these questions and get clear on your outcome before starting the project.
The reason why I am getting you to really analyze these questions is because putting together family photo albums can be tricky. The upside is it can also be loads of fun and very rewarding.
I am going to assume you want to put together a family photo album for each family member. I'll also assume that your pictures are in hard copy format not digital.
Check out this short video on Organizing Family Photos:
Use these top 5 Getting It Together tips to move forward with organizing family photos.
Let's say you have 2 children. One we will call Tim and the other Sue.
Tip#1: Take a big white envelope and label it TIM. Take another big white envelope and label it SUE.
Tip#2: Take one small pile, small box or one old photo album. Divide the pictures between each big white envelope. Do not worry about anything else at this point. Just the sorting and dividing of prints between the 2 envelopes. If both children are in one picture you could scan it and put the photo in each envelope.
Tip#3: Take each envelope and do a ruthless purge. Toss any photos that are out of focus. Toss any where the eyes are closed or beat red. Toss any photos in which you have no memory of taking it, do not know where it was taken and or do not know who else is in the photos.
Tip#4: Next take your envelope of pictures and sort them by date or by events. For example you could put all birthday pictures together. Then all Christmas pictures together, etc. I find this to be far more effective than trying to do an album by date.
Tip#5: Put together the album. You may choose to write a little story on each page.
Once you have completed the 2 albums watch with delight as your grown children open them and devour the pages. I am sure they will be thrilled.
Still feeling a little overwhelmed by all the photos in your home. Call me for a FREE 30 minute phone consultation. We can discuss your personal needs. I'll give you some tips and encouragement to help you move forward with this project.
Did this video and article help you with moving forward? If so, please leave a comment in the comment box below and please share the love by sharing this blog post with your family, friends and social media peeps. Thank you.