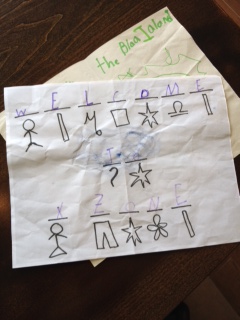 Do you have the next up and coming Picasso?
Do you wish you could keep every piece of artwork your kids bring home?
Do you keep all the art thinking that your kids will want it when they are grown up?
Human nature is such that we all think pretty much the same on this topic. We feel that every piece of artwork is the BEST piece. We feel that we want to keep all the kids artwork because it would hurt their feelings if they saw it in the recycle bin. We also think they will want it when they are grown up … is this so they can show their own kids? Do you have your artwork from your childhood? What are you doing with it? How many times have you moved it? Is it filled with dust and must?
I do not know about you, but I do not have one piece of artwork from my childhood. I am perfectly okay with that as I see other children's artwork and know that mine would have looked almost identical. Plus, what would I do with 10 plus year old artwork? I really do not feel any less than by not having my artwork.
I do have a vivid memory of a piece of artwork that I did that won me $5.00. It was of a dragon. It was big and bright and colourful. The memory is all I need.
Take a quick moment to watch this video on How to Organize Kids Artwork:

Then give these simple 5 tips a try on how to organize your kid's artwork.
Tip#1: Designate one wall or hallway for your kid's artwork. Hang a long piece of string on that wall that looks like a clothes line but attached to the wall. Hang clothes pins from the string.
Tip#2: Each time your child brings home a piece of artwork hang it from the "clothesline".
Tip#3: At the end of each week take a photo of your child standing beside his/her artwork. These pictures make really cool screensaver slideshows or a Pinterest board!
Tip#4: At the end of each week take all the art down off the string. Along with your child (or not) decide on ONE piece of art from that week that you will keep. The rest can be recycled, used as wrapping paper for the next Birthday party, made into greeting cards for family and friends, or turned into party invitations. You can even send the artwork off to grandparents or aunts and uncles.
Tip#5: At the end of each month you will have 4 pieces of your children's finest Picasso. Along with them or by yourself select ONE of your favorite to store in a keepsake box. The other 3 get tossed, or repurposed as mentioned in tip #4. At the end of the year you will have 12 pieces of art. Now it is time to get ruthless again and select ONE piece that will be saved in your child's memorabilia box or you may choose to frame this one piece or you may choose to put it in a bound book. You can also add the weekly photos that you took to this book or scrapbook. I have seen really cool bound books of kid's artwork. If you are interested in this please contact me and I will give you the contact information.
I would love to see your children's artwork. Please send me a picture or two. Also, I would love to hear your comments. Please fill in the box below with your great ideas on organizing your kid's artwork or any questions you might have.
Have you set up a Pinterest account? If not please feel free to contact me. I'll give you the highs and lows in a FREE 30 minute phone consultation. We will discuss whether you need a Pinterest account. What you can pin and why you might like to have a Pinterest account.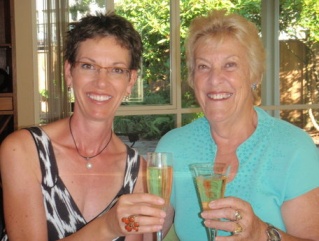 Are you the adult child of an aging senior?
Are your parents still in the family home? Is it time to downsize them?
Are you a senior wanting to downsize?
Seniors are our largest growing demographic. You may be one of them or you may have parents that fit into that category.
My mom is 79. Fortunately she is still able to live in the family home however that does not mean that is the best idea. Some experts have the theory that it is better to downsize while you can still make all of the major decisions and your health is still really good. I would have to agree.
All too often I work with clients who are not capable of downsizing. Their grown children are so busy with their own lives that they are not able to help either.
Check out this short video on downsizing seniors. Plus Getting it Together's game plan.
1. Have a family meeting to decide when a good time to start downsizing is. My Aunt did this and came up with the age in which she felt was appropriate to move into something smaller. She has given herself a couple of years in which to plan for and execute the move. In the meantime when her grown children are over they work on a certain area of the house. For example, they did cookbooks the other day. This was a funny one because my cousin asked my Aunt which cookbooks she was still using to which my Aunt replied "none, I do not cook anymore". Lol
Ok so that was easy. All the cookbooks went to the second hand book store.
Next in line were the volumes of encyclopedias. The money people have spent on encyclopedias to realize that now a day's Google does it all for us. Off to the used book store they went.
2. Decide who will help you or your aging parents with downsizing. Chances are your grown kids have a young family of their own. Their time may be very limited. Is it best to hire a professional organizer to help with the downsizing?
3. Where do you want your items to go? This is always a tricky question. I know of people that again have a family meeting. They get each person to put their name on the back of any items they would like once the downsizing starts and/or when the aging parents pass away. Are there collections that need to be sold? Are there family heirlooms that need to be preserved? Are there other household items that need to be donated or tossed? This is where I come in. I will sell, donate, or toss items for my clients. I think if people know their items are going to a good place they are more likely to part with them.
What items will be needed in the new smaller living space? This might be a tougher question to answer until you see the new smaller living space. Once you do, you will be able to decide what stays and what goes.
4. When should you start downsizing? TODAY! If you have allowed yourself enough time you can break this downsizing project down into bite size pieces. Try not to leave this project to the last minute. Change is hard on most people. Downsizing is one of the biggest changes a person might do in their life. Embrace it.
Would you like a FREE session over the phone? Contact me today to get yours. We can discuss your downsizing situation and come up with some solutions in order for you to move forward right away.
Have you had any experience with downsizing a parent or have you yourself recently downsized? If so please leave some helpful comments in the box below.
How often do you stand in the kitchen and eat your meals?
How often do you miss a meal? "I'm too busy to eat."
How often do you get indigestion?
This is all crazy making. The fact that we are too busy, too rushed or maybe to disorganized to eat properly is crazy. Eating is one of the most important things we can do for our bodies next to proper sleep and shelter. Yes it takes time, planning and preparation in order to be prepared for meal time. These ideas take just a little time and a little organization. Your body is worth it. Isn't it?
Check out this short video on how to slow down and savor your food.
Next time you are getting ready for a meal please try these top Getting it Together's 5 tips.
Tip#1 Stop. For just a moment and really appreciate what is on your plate. Be grateful for what you are about to eat. (Hopefully it is something really healthy and yummy.)
Tip#2 Breathe. Take a moment and really examine your breath. Are you breathing short shallow breaths or are they long deep ones. If they are short, take a minute and do 3-5 really deep breaths. This will help you to slow down and enjoy your meal.
Tip#3 Chew. Chewing slowly encourages proper digestion. Chewing slowly allows you to really savour the flavours of the food you are eating. If you are a dinner guest chewing slowly shows your host or hostess that you are appreciating the tastes and effort it took them to make the meal.
Tip#4 Sit. Even if you are dinning alone sitting at the table is so very important.
You are important so set a place for yourself. No more eating in the car, eating on the run, eating standing up or worse yet eating in front of the TV. The experts say that sitting down to meals increases your chances of losing weight. (If indeed you need/want to lose weight.)
Tip#5 Set the stage. Get yourself a nice placemat, light the candles, turn on some nice music. Turn OFF the TV. And above all please do not answer the phone unless you are expecting an emergency call.
So often I will call a home and the person claims on the other end of the phone that they are right in the middle of dinner. I have never understood why people answer their phones when they cannot talk. (That is a whole different article). I was in a home the other day and they have a big sign on the fridge: "No phones one hour prior to dinner or during." What I love about this message is that it was written by the young daughter. Do you think she might have been frustrated by the lack of communication at her family dinner table?
Whether you are dinning with yourself or your whole family these tips are a great way to slow down, connect, savour and enjoy your food and meals.
Give these TIPS a try and let me know some of your most favourite dinning experiences.