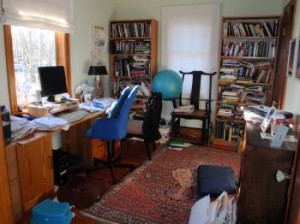 Are you a solopreneur? Does your home office become a dumping ground for all the family projects, junk, and homeless items? Has your home office been neglected?
How many hours a day are you in your office? Do you share it with your kids?
How do you feel when you walk into your office? Do you close the door and go do laundry? This is probably not good for business.
A home office will naturally get disorganized from time to time however what is important is to be able to get it back in working order in 15 minutes or less.
Take a minute and think of 5 keywords you would use to describe your office. For example, you might want to describe it as inviting, relaxing, tidy, creative and organized. Keep these 5 keywords in mind when purging and organizing your office.
To find what you are looking for in 20 seconds or less, I am going to share my secret with you. Below are my 5 simple tips to having an organized workspace and keeping your sanity.
Tip #1 Clear the top of your desk
It is important to have a clear working surface. This also helps with keeping your mind clear. Start by clearing off the top of your desk except for your computer and phone. Put everything in a box (you'll use this box later so keep it handy!). Wipe your desk down. Put one or two personal items on your desk. A family photo or a souvenir.
Tip #2 Have a working system in place
Do you share your office with other family members? Is your office a makeshift room in the house? Whether you have a small working space or large one it is important to have systems in place. Ask yourself these key questions.
Do you need:
An area for files?
A place to take care of family business like bill paying or kids school stuff.
A place for incoming phone messages and "to-do's"? (I use www.1to31.com)
A working area that's bigger? How big?
An area for being creative?
Now set up these different "areas or places" on the top of your desk or in a file cabinet. Before you file a piece of paper ask yourself this question "do I really need this paper or could I find it on the computer the next time I need it?" The key is to have "zones" in your office. A computer zone, a working space zone, a reading zone etc.
Tip # 3 Think outside of the box (LITERALLY!)
Go back to the box you used in Tip #1 and take out one item at a time. Put that item in its 'new' place. Keep in mind YOUR 5 keywords you have used to describe your office space. File items that need to be filed, toss items that are no longer needed and delegate anything you can. All non- office items need to be put away in their proper place within your home.
Tip # 4 Conquer email clutter
Was life better before email? Do you wish your inbox was cleared out by the end of the day?
Take 15 minutes to organize and purge your inbox. Set up folders for areas and subject matter you use most often. If you can, your email folders should correspond with the names of your paper files. This will save you time trying to find things later. Delete emails you no longer need. Unsubscribe from newsletters you no longer read. Be ruthless.
Check emails only once or twice a day if your business can handle this. Turn your email indicator off. The little bell is like a dog with a bone. It rings and you get distracted.
Tip # 5 Take 15 minutes at the end of your office time
Take 15 minutes at the end of each work day to clear off your desk, put things back and set-up for the next morning. Make this a habit. Even schedule it in your datebook if you have to. You'll be so excited to get to work each morning knowing everything is in its place and that there is a place for everything.
Don't let your office become a dumping ground for you or others. Keep those 5 keywords handy. Watch how much more productive you will be.
How did you do with downsizing your Christmas decorations from last year?
Did you have the best of intentions?
Did you get stumped on what to give away?
The sentimental decorations are one of the hardest to deal with. Aren't they?
What I find is that no matter how hard I try I still end up with one or two new decorations. People make me things or buy me something. As much as I appreciate the thought from the gifter it still leaves me with the dilemma of how am I going to store these added items.
Once again I am faced with pairing down my decorations so they can all fit in my 3 boxes. Remember part one easy Christmas decorating ideas?
I also promised you in that first video I would share my secret about the type of Christmas tree I have.
Check out this short video on easy Christmas decorating ideas to see it.
So many apartments and condos do not allow "real" Christmas trees. Many of you are wanting to be environmentally friendly and do not want to support trees being cut down. Then there are the people that simply do not have the room to put up a tree, or maybe you are going away for part of the holidays and do not want to fuss with too many decorations.
I'll bet you are liking the idea of my Christmas tree more and more. IKEA liked my idea so much they started selling fabric trees.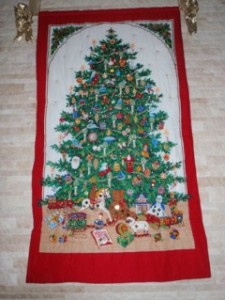 They are not as fancy as mine but then again this piece of fabric did not start out looking like this.
By the way, did you take advantage of your free session? No need to wait. It is only 20 minutes. Grab a coffee and give me a call.
We can discuss how you can have easy Christmas decorating ideas. I also have a fabulous idea to share with you. What to do with the Christmas decorations you no longer want and where they will go.
Every year do you vow to downsize your Christmas decorations? To keep things simple and stress free.
Do you vow to be more organized?
Do you vow to start early, to avoid the rush?
You are not alone.
Please take a moment to watch this short video on easy Christmas Decorating Ideas.
I think you will agree that these tips will help you to have a stress-free AND merry Holiday Season.
Did you decide on your limit?
That is the first thing you need to do. How many boxes are right for you and your storage capacity?
BOX 1
The contents of this box is for all of your Christmas cards, wrap, ribbons, gift bags and spare Christmas light bulbs.
Now if you are really downsizing, you may have given up the gift giving trend. If you have, you no longer need to store gift wrap, ribbons or gift bags. Instead of gifts you might choose to do a memory making outing. For example, going to a live play, baking cookies together or going out looking at all the Christmas lights followed by a gourmet dinner.
Many people have also given up the tradition of sending Christmas cards. Instead they take the money saved from buying cards and postage and donate it to a charity of their choice. If you are like me and still like to mail cards you might want to shop right after Christmas to get your cards for the following year. You cannot beat the sales!
BOX 2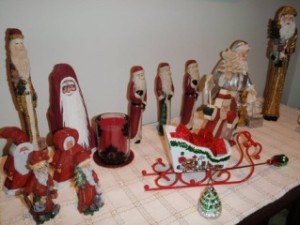 This box contains all of your decorations. Do you have a collection? When are too many Santa's too many?
Fortunately I have a small area for my collection of Santa's. Once I run out of room I am at my limit. No more Santa decorations for me unless I am willing to part with some of the older ones or least favorite ones.
BOX 3
The contents of this box contains all of your holiday linens such as placemats, table cloths, napkins, seasonal napkin rings, and any Christmas music CD's.
Now I am sure you are wondering about a tree.
Stay tuned for Part 2 of easy Christmas Decorating Ideas to find out more organizing tips.
By the way, did you take advantage of your free session?
No need to wait. It is only 20 minutes. Grab a coffee and give me a call.
We can discuss how you can have easy Christmas decorating ideas. I also have a fabulous idea to share with you. What to do with the Christmas decorations you longer want and where they will go.