At the heart of Getting It Together is founder Rowena List. Rowena's 25+ years of experience and expertise in "getting it together" are multi-faceted – being a successful entrepreneur, speaker, coach/trainer, and wife and grand-mom have all played an important role in honing Rowena's natural ability to harness and teach others the best practices for getting – and staying – organized, and for maximizing one's time.
Getting It Together offers:
professional organization services for both individuals (residences) and organizations (businesses), including assistance with moving and life-transition scenarios.
keynote speaking and workshops.
productivity coaching (including time management training/coaching).
Rowena's unwavering belief that 'the power of productivity equals profit' is what set her apart from many in one of her businesses (being part of one of the world's most well-known and successful direct selling organizations).
Being recognized as top in sales for many years in a row and achieving a Director level, Rowena discovered that she was able to share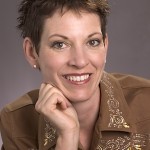 her success strategies by teaching others organizational and time management skills – in a way that's easy to understand and implement.
Rowena's non-judgmental, supportive and caring nature, along with her irresistible energy and enthusiasm make working with her feel 'safe' and empowering – whether it's a full-scale de-clutter and re-organize or move scenario, or coaching and training on how to master all sources of 'incoming', to-do's and commitments.
Rowena's highly interactive speaking engagements have spanned the globe and her organizational tips have led to numerous media attention, including Breakfast TV, Global TV and Fanny Keifer. You may have also heard her on CBC Radio or read her de-cluttering tips in More magazine, Canadian Living, Vancouver Sun, and The Vancouver Province. Click here  for more information about having Rowena speak at your upcoming event.
Rowena has also created and offers tools to help individuals get and stay organized – check out her highly successful 1to31 Organizing System and other tools under the Products menu.
Rowena is a Silver Leaf Member in good standing with the Professional Organizers of Canada (POC).
Are you curious about how to start getting organized and how I approach this process? Enter your name and email on the right side of the page, and I'll send you my FREE Ten Tips e-Guide, which will help you get ten areas of your home organized in fifteen minutes or less!
May this be your most together year yet!
Rowena
rowena@gettingittogether.ca
604.520.9550