Archive for the 'Moving and Life Transition Organization' Category
Have you ever wondered what exactly is a professional organizer?
Have you ever wondered what does a professional organizer do?
Have you ever wondered how a professional organizer got started in the profession?  (This is the question I get asked the most.)
Sign up for your FREE session here.
If you sign up for your complimentary session with me, I will share my story with you…only if you are really curious. If not, no worries we will just dive right into your challenges and how to solve them.
Check out this short video on what is a professional organizer.
A Professional organizer supports, empowers and encourages their clients through the non-judgmental process of sorting, purging and storing of unwanted and wanted items. A Professional organizer provides hands-on services. A professional organizer coaches and transfers organizing skills to help clients develop appropriate and lasting solutions for their individual needs. A professional organizer follows up and is always there for you….on time.
Some of the services I specialize in are:
Residential Hands-On Organizing: De-cluttering and organizing garages, storage lockers, closets, bedrooms, kitchens, kids rooms and home offices just to name a few. I can also support and encourage you with space planning, closet design and storage solutions. And then there are the projects of sorting and organizing memorabilia and photos. Basically if it has anything to do with organizing, I do it.
Other services I provide are: time management, goal setting, packing and moving and productivity coaching.
I also conduct seminars, workshops and keynote speaking engagements.
Do you belong to a networking group, a women's business group, business professional organization or any other association that you feel might enjoy hearing top organizing tips?
If so, please fill in the comment box below or send me an email at rowena@gettingittogether.ca. Let me know who you would like me to speak to. We can discuss topics that would best suit your organizations needs.
If you are not in the "Getting it Together" community, add your email address to the right.  You'll get instant access to a free ebook that outlines a simple 10-day plan for organizing 10 different areas of your home in 15 minutes or less.
Has this ever happened to you?
You moved from one home to another.
Prior to the move, you decide to downsize, purge and toss. You have the best of intentions. You start off in one room. Before long you are getting distracted and losing focus. All of a sudden the phone rings with a better offer on the other end. You know what I mean. You decide the better idea would be to just simply pack everything and toss/clear out the clutter when you unpack in your new pad.
Check out this short video on a cluttered life:
Fast forward.
You are in your new living space. Time goes by.
There is a box or two sitting on the sidelines. What are your thoughts each time you pass that box? Maybe you even kick it out of the way. Are you saying "I must empty the box." "What is in that box anyway?" These thoughts are causing mind clutter.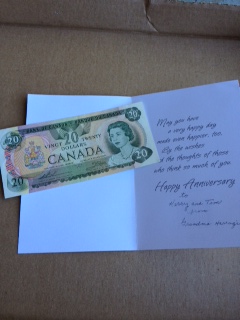 The other day I was working with a client and such a box appeared. It had been neatly, well actually not so neatly, packed 26 years ago. One of those last-minute tossing in and go boxes. Upon opening the box we discovered unopened greeting cards from her second wedding anniversary. Inside one card was a crisp new 26 year old $20 bill. Bingo!! Let's open all the cards. Another envelope had a cheque from her grandmother for $75. How come the grandma never questioned her out of balance bank account for 26 years? Conscious or subconscious, this box has been weighing heavy on my clients mind. Thinking about it and worrying about it takes up precious time. Not to mention paying to have it moved and storing it in the garage.
Here are my top 3 tips to helping you with a cluttered life and how to de-clutter it.
Tip #1: Take the 15 minutes to do it right. Instead of tossing things into a box simply take the 15 minutes to deal with the stuff you are about to dump into that box. Book those 15 minutes with yourself like it is a client appointment. Put this appointment right in your calendar. It is a date with yourself and the box.
Tip#2: Set up piles for keep, shred, toss, recycle or donate. Handle each piece of paper once or each item once. Putting it in one of those piles. The key factor here is to stay focused on that one task for 15 minutes. That one box. Turn off the phone, email indicator, close the door, do whatever it takes. Just think how clear your mind will feel once you have emptied that box.
Do you have more than one such box? If so, handle one box at a time in 15 minute increments.
Tip#3: Once you have your piles, you need to deal with them. The toss and recycle piles are the easiest. Donate is easy if you remember to put the items in your car and drop them off at your local charity. Shred is straight forward. Get your kids to do that for you if they are old enough or you can do it while watching TV. The keep pile is where the rubber meets the road. Take each item and deal with that item. Does it need to be filed? Does it need to be put away? Do you need to set up a system for some items?
You will be surprised at how fast you move if you have the 15 minute timer on and stay focused.
We are humans and take the path of least resistance. You do not want to do this when it comes to your boxes. In the long run it will save you so much grief and stress. Kiss a cluttered life goodbye.
Are you suffering from too much stuff in too small a space, too much stuff in a large space or simply too much stuff?
Do you have trouble locating important information in your office?
Can you find what you are looking for without getting stressed out?
Do you lose your keys, phone, eye glasses or kids?
Do you need to hire a professional organizer?
 Check out this video to see.
Ask yourself these questions:
Have you ever thought "there has got to be a better way to manage all your papers"?
Is it a challenge for you and your family to get out the door on time each morning?
Are you feeling overwhelmed?
What is your stress level? Would you like it lower?
Are you embarrassed to have friends or family over?
How would you feel if the neighbours dropped in unexpectedly?
Does it take you more than 20 seconds to find what you are looking for?
Would you like systems?
Would you like your kids to be more organized?
If you answered "YES" to any of these questions, it might be time to hire a professional organizer.
I know of a really great one!
I will encourage, support and empower you with moving forward in getting organized and staying clutter free. I will support and encourage you with the purging of stuff.  Most importantly I will give you your life back.
Let me know what area in your home is bugging you the most. Leave your bug list in the comment box below. I will give you a tip to get started right away with getting and staying clutter free.
Have you taken advantage of your FREE session yet?
If not then please ease on over HERE and let's get started today.
We can discuss if you need to hire a professional organizer, or if you need some productivity coaching sessions or maybe you need just a little pep talk.
 Either way I am here to support, encourage and empower you with moving forward.