Archive for the 'Moving and Life Transition Organization' Category
Have you ever thought about the benefits of hiring a professional organizer?
How many times have you said to yourself "why can I not do this on my own?"
Many clients comment on reduced stress, more time, more energy and more freedom once they have worked with me.

So I thought I would share even more of the benefits of hiring a professional organizer.
Please be sure to take a moment to watch this short video on what are the benefits of hiring a professional organizer.
The benefits of working with me a professional organizer is that I will keep you focused to task.
I will be on time.
I will develop a plan of action for you and your space. If you require a handyman, contractor for renovationss, painter, rubbish removal, disposing of stuff or a piano moved I will provide the people. My endless supply of resources has proven to be priceless. So my clients say.
A huge benefit of working with a professional organizer is being ruthless.
I have a few key questions I ask you as we are sorting, purging and tossing. This makes the decisions a little easier for you. Shall you keep it, toss it, store it, sell it or set up a system for it?
Many clients feel like a weight has been lifted off their shoulders once they start decluttering.
If you would like to hear more benefits of hiring a professional organizer then please take advantage of my FREE session. Simply click HERE.
We will discuss your needs, your questions and how I can be of service to you.
If you like this video, click the "like" button and then share it with your friends.  And if you're not in the "Getting it Together" community, enter your name and email address to the right and get on the list.  You'll get instant access to a free ebook that outlines a simple 10-day plan for organizing 10 different areas of your home in 15 minutes or less.
professionals working together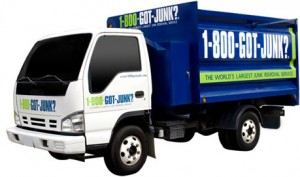 As the world's largest junk removal company, 1-800-GOT-JUNK? sees a lot of messy spaces. On a daily basis, our teams are helping people regain their space; whether it's a single couch, leftover yard sale items, old attic junk, or an estate clean-out. Some of our clients simply have too much stuff they don't need, we haul it away, and they're happy. Others have junk, but also a great deal of useful items they do need that are cluttering up their living spaces. This is when we seek out the help of professional organizers.
Junk haulers are the experts when it comes to getting the junk out of peoples' homes, but for people dealing with keeping household clutter in check or chronic disorganization, we call for the expertise of professional organizers. By eliminating unnecessary objects from the home, we set the stage for organizers to come in and help you to better manage and organize the items that you are keeping. It's the perfect partnership of

professionals working together
The professional organizers we work with have told us they rely on our junk removal service to provide a seamless addition to the service they provide for their clients. When their job is done, we come along and haul away unwanted items. It's imperative that they can trust the junk hauler to ensure the items their clients are letting go of are responsibly recycled and donated to charity when possible.
At 1-800-GOT-JUNK? we have an average system-wide diversion rate of 61%, which means that we're doing everything we can to help you feel good about getting rid of your excess clutter. Our truck teams are often asked who their most valuable industry resources are; many say that working with organizers is great because they often go to homes that need serious organization prior to receiving our service. It makes our job easier!
We've had many years of success working with professional organizers, both on a local and a national scale, including the ongoing popular A&E docudrama, Hoarders. Due to our strong relationships within the community, we often attend organizing events and award ceremonies to proudly support our friends in the industry.
Any time you or your friends and family are looking to keep clutter under control, find a new home for the unwanted items in your home, or have junk that just needs to be hauled away, when you call a professional organizer, chances are there's a trusted junk hauler in tandem, and vice versa.
1-800-GOT-JUNK? is a full-service junk removal company whose friendly, uniformed drivers have set a new standard for professional junk hauling and great customer service. The company hauls away items that city garbage collectors do not typically accept, such as old furniture, renovation debris, and backyard mess. 1-800-GOT-JUNK? provides junk removal service for residences, businesses, commercial sites, and government offices. With locations in most major metros, 1-800-GOT-JUNK? can respond to large-scale clear-outs. Whenever possible, items are recycled or donated to charity.
How would you like to spend less but feel like you have more while you
permanently reduce clutter?
Do you wish your bank balance was higher than it is?
Are you surrounded by stuff?
I have always admired people like the late Lady Dianna. She dressed with simple elegance. Oh yeah, she had a huge wardrobe because she was a princess however her style was elegant and simple. I'll bet if she were not a princess she would have had a modest closet filled with a few key items of clothing. The type of clothing items that mix and match so well together. That is my goal for you as well. As the French would say "you do not need a lot of clothes you just need a great imagination."
These tips would also work when decorating your home. Simple yet elegant.
Where else do you think these tips would work well in your life?
Please leave a comment in the box below. Your opinion counts.
Read on to get ten simple tips to

permanently reduce clutter
.
Tip 1. Use the 6-12 month rule.  If you haven't worn or used it in 6-12 months, get rid of it. Pass it on with love. The only exception to this rule is that one elegant evening dress in the back of your closet waiting for a fancy dance or cruise. If it is a classic it will not go out of style. If you stay the same size it will fit!
You might even have an item in your home that comes out for the rare occasions. You know the tray that holds deviled eggs.
Tip 2.  Align values with spending.  I value good/organic food, my health and travel to name a few. So, I know that planning and paying for a vacation, getting a massage, or going shopping at one of my favorite specialty shops is aligned with my values. Knowing what you value makes it much easier to make or not to make spending decisions.
Tip 3. Stick to a shopping list. This will help you with not getting side tracked.  Take a shopping list with you when you go to buy groceries or clothes.  When you know what you are looking for you will save time and money. The most organized people do not just aimlessly wonder around shops. They have a mission and stick to it. Now that does not mean you do not go window shopping with a friend once in awhile. Hey we all need that fix with one of our BF"s
Tip 4.  The 24-hour rule. We have all heard this one before. I think Oprah even uses this rule. Imagine with all of her money. Think about your purchase for 24 hours. If you still feel you need/want it after 24 hours go back and make the purchase. If you feel you can live without that item after 24 hours you have just saved yourself some money.  This eliminates the spontaneous purchases. I also like to shop at places that have a no fuss return policy. For example an item of clothing might look great in the store lighting. You get it home and the colour is not at all what you thought.
Tip 5.  Create a do-not-spend day.  Are you old enough to remember when stores were not open on Sundays? Or when late night shopping was only on Friday nights. Ah, the good old days. I use to work in the mall when this was my reality. (Okay, I know I am dating myself now) however one day without spending can add up.  Choose a day each week and make that your do-not-spend day.  Instead, get creative with all the fun free things you can do. Pack your own lunch or snacks and take a thermos with your hot drink in it. Your mind, body and bank account will thank you!
Tip 6.  Stop keeping up with the Jones. Why is it that humans have the need to keep up with the Jones? Who started this anyway? The Jones do not care what you have or how you spend your money so why should we care with keeping up with them? I know it is a saying however imagine if we all lived simple so others may simple live? The only person you need to impress is yourself. Think of how great you will feel if you only bought what you really needed, used and loved. You bank account will love you too.
Tip 7.  Analyze your spending for a week.  Keep track of each item you buy. At the end of the week ask yourself if it was something you really needed, will be using and love. If not then ask yourself this question "what was the purpose of buying this item" If you cannot come up with a strong answer it might be time to return it. I'll bet you will not have many if any of these purchases if you follow the above tips especially the 24 hour rule.
Tip 8.  The This/That Question.  Unless you have an endless supply of money and even if you do I'll bet you do not want clutter. Ask yourself this question. "If I buy this I cannot have that" "If I go on a fancy vacation I cannot have a new living room set." Keeping in mind that this style of living will eliminate debt. Once again your bank account will love you for this. Credit card debt or overdraft debt can cause so much stress. You might not think that it is but it is!
Tip 9.  Have gratitude.  My life has always run smoother when I have kept a gratitude journal. I would highly recommend keeping one. Each day write down 5 things you are grateful for. It might be that you can see or that you can buy a new purse for Fall or that your family's health is good. You'll be hard pressed to stop at 5 things each day.
One of the best books I read was called "Simple Abundance" by Sarah Ban Breathnach. I first read this book back in 1998 and re read it every year for three years. It is time I did that again.  Do not get me wrong. I did not do all the activities Sarah suggested. I feel you would need to be superwoman to do that and none of us are. However the best part was all about gratitude. It is a one page read each day and well worth it.
Let me know if you have read it. Leave your comments in the box below.
Tip 10. Be kind to yourself.  My Birthday gift to myself this year was that I would be kind to myself. That means being kind to my body, mind and spirit. It means watching my self talk. It means giving myself permission to be human. Hey we all make purchasing mistakes however if we are aware of these ten tips we will make fewer of them.
Feeling like a 20 minute FREE session? Contact me to arrange for your time. We can chat about your most burning clutter questions including how to have more money in your pocket.